Fifty Years of Silence is the memoir of Jan Ruff-O'Herne, a war rape survivor. The book begins by describing Jan's idyllic childhood in Dutch colonial Indonesia. The picture she painted of her loving family and privileged childhood were imperative to understanding how she was able to cope with her years of imprisonment in such abominable circumstances. Her strong faith in God was a great source of comfort that helped her keep the Japanese from breaking her spirit. Perhaps because she had experienced an idyllic childhood she was able to see her imprisonment by the Japanese as the atrocity that it was without losing her faith. Her knowledge of the Bible had made her aware of the evil that exists, hence when she was in her darkest moments, she was able to draw comfort from the words of the Bible and fully trust God. That's the only explanation I can think of, as to why she didn't blame God as many others do.
In 1942 Jan went from living in paradise to a hellish fight for survival as described:
'Sanitation was a nightmare and was becoming the greatest problem. That morning it had been my turn to empty the overflowing sewage pits… This meant emptying the sewage pits with buckets, then carrying the stinking buckets to a nearby stream to empty them. This job was done by a team of young girls. I was wearing my oldest clothes and I had tied a large handkerchief over my mouth and nose, for the smell was unbearable. The guards watched from a distance, grinning, obviously enjoying the sight. After an hour of performing this most unhygienic and loathsome task, I returned to the barracks with an aching back.

My whole body, especially my hands, had a nauseating stench…Recently I had traded our last bit of soap for a couple of candles, matches and some bread, so I rubbed my hands with sand and then with crushed leaves. It took quite some time to scrub the smell off.'
They were so hungry that they ate anything they could get their hands on, even a high-ranking officer's cat. Anything that moved was cooked. Great risks were taken to steal food and harsh punishments were given when caught. As unbearable as her treatment was by the Japanese in the prison camp, it didn't compare of the horror that was to come when she was chosen to serve the Japanese military in a brothel they called The House of the Seven Seas. Jan had just turned twenty-one when in February of 1944 she was torn away from her mother and sisters, the only comfort she had in the prison camp, and transported to another location to be forced into sex slavery. Virgins were the most prized. Here is a description of her first rape:
'In a mixture of poor Indonesian and English, he shouted, 'Mati, mati, I kill, I kill.' The expression on his face showed utter hate and determination. I understood quite well that he meant every word. Strangely enough I was not afraid to die. At that moment I really wanted to die. Dying was better than giving in to this man and being raped by him.'
I recommend you read the rest yourself. Jan has written her story with eloquence and frankness. It may make you question the false sense of security we all live with. Our lives could change in a moment, just as Jan's and everyone else's life changed when war broke out. Fifty years later, Jan and other women forced into sex slavery, broke their silence about what was done to them. Jan travelled globally on a campaign to expose these war crimes and reunite with other women who had also suffered the same demise. The most disturbing part is that it is still happening today. Her sixteen-year campaign from 1992 to 2008 was extraordinary. Her suffering did not go in vain. Fifty years later she came face to face with some of the Japanese men who had served in Indonesia and had used the brothels to 'boost their morale.' Amazingly she was able to forgive them and set herself free from the festering shameful secret that she had kept for most of her life. I wrote this review to keep her story and campaign alive and to honour all the women and men who suffered in wars.
To finish, I would like to add that I found it extremely offensive that these women were referred to as comfort women. There is no diplomatic way to say 'sex slaves' and I'm appalled that their ordeal was watered down by using such a word as 'comfort'. It completely contradicts the justice they were seeking. Please read this book and write a review anywhere you can in honour of all sex slaves who were and still are being forced against their will.
Rating: 10/10
Part of Jan's campaign included a documentary made about her life. It won an AFI Award in 1994 as Best Documentary and a Logie Award in 1995 as Best Documentary. This can be purchased at: Ronin Films
Related articles:
Her book can be purchased at: Amazon – Fifty Years of Silence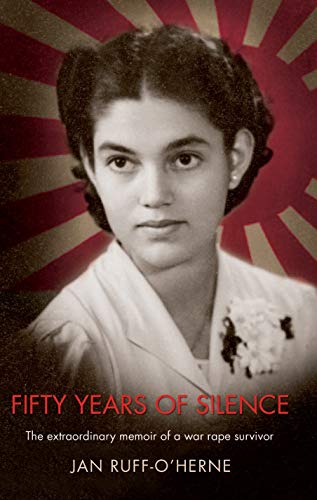 Book Information
| | |
| --- | --- |
| Book Title | Fifty Years of Silence |
| Author | Jan Ruff-O'Herne |
| Description | The long idyllic summer of Jan Ruff-O'Herne's childhood in Dutch colonial Indonesia ended in 1942 with the Japanese invasion of Java. She was interned in Ambarawa Prison Camp, along with her mother and two younger sisters. In February 1944, when Jan was 21, her life was torn apart. Along with nine other young women, all of them virgins, she was plucked from the camp and her family, and enslaved into prostitution by the Japanese Imperial Army. |