Machine Gun Preacher, starring Gerard Butler, starts with the raid of a Sudanese village by the LRA (Lord's Resistance Army). A young boy watches his father being shot dead and is then forced to kill his mother by clubbing her over the head.
We are then taken back a few years earlier, to the other side of the world, in the United States.  Sam Childers is being released from prison to wreak his own havoc on the community and his family. The first thing he does is fly into a rage when his wife tells him that she's following Jesus and refuses to work as a stripper any more. He storms out of their trailer-park home and gets totally wasted on drugs and alcohol, slipping right back into his violent lifestyle. He gets what he wants the same way as the LRA, by raiding homes with a gun in his hand and hate in his heart.
They say the power of prayer is powerful. No doubt the prayers of his wife, mother and daughter bring him to a point of desperation after he repeatedly stabs a hitchhiker, throws him out of the car into snow and leaves him for dead. Back at home, as he washes the blood from his hands, his wife walks in and sees his broken state as he pleads for her to help him.
At that point, Sam's life is transformed. He cleans up his act, is baptised and sets up a building business to look after his family. Another major turning point in his life comes after he volunteers to go to Uganda to build homes for a Christian mission. He asks to be taken to Sudan to see first-hand the state of this war-torn country. The evil he experienced in the United States paled in comparison to what he faced in Sudan. The senseless annihilation of tribal races by the LRA did not only affect adults, but left children abandoned, tortured, sold into sex slavery, and murdered on a daily basis. These unimaginable horrors are enough to shake anyone to the core. Protecting these children became Sam's personal mission. He fights the only way he knows how – with a gun in his hand. And so he becomes known as the Machine Gun Preacher.
Marc Forster, director of Machine Gun Preacher, made every frame count. Every shot has meaning and there are layers that go beyond, such as a Christian fighting the LRA. There is nothing that is far-fetched. It's as real as you can get. We watch Sam fight his demons through his amazing journey. We watch him struggle to make sense of why God would allow these precious children to suffer. He loses focus of his mission as the balance of love and hate are tilted towards hate with the growing anger and frustration he feels in a seemingly unwinnable war. His anger becomes fuelled at everyone and he becomes a dangerous missile, alienating himself from his team of Freedom Fighters who no longer see him as a safe leader. It's the words of a little boy that brings him back into balance as he tells Sam that 'they can take everything away from you – but they can't take your heart.' – unless you let them.
Gerard Butler gives an outstanding performance. He communicates powerfully so that we feel what he feels whether we agree with him or not. He has taken on a mission that has no ending. If he stops protecting these children, they will perish. And to add to the burden, more and more children are found hiding in the bush. There is no happily ever after tied in to this film. The Machine Gun Preacher continues to fight Another Man's War.
Michelle Monaghan as Sam's wife, and Michael Shannon as Sam's lifelong friend also gave excellent performances. To Forster's credit, he was spot on with his casting and his vision for telling this story was perfection. It was a difficult film to watch as we don't want to believe such evil exists, but I highly recommend it. This story has the power to change lives.
Aaron Hendra's song One Man's War was written for the movie. I encourage you to download it and at the same time support a really worthy cause.
Download 'One Man's War' on iTunes. 100% of proceeds from this single (in perpetuity) go directly to support Sam's work at Angels of East Africa.
To purchase the book, Another Man's War, click on: Another Man's War paperback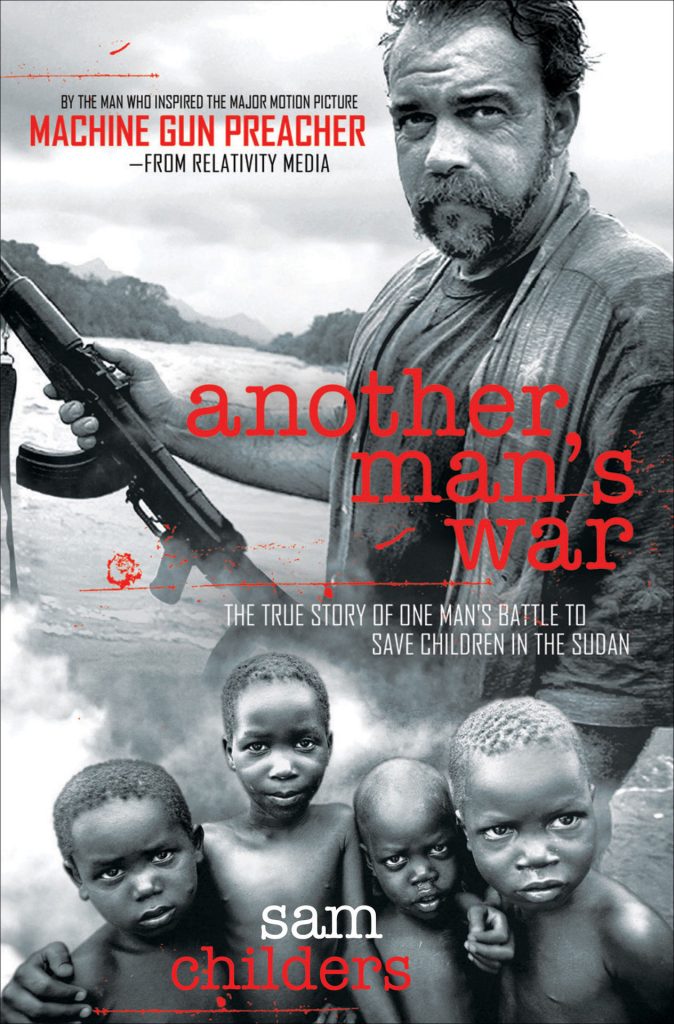 To purchase a copy of the Machine Gun Preacher DVD here.
Related articles:
Film Information
| | |
| --- | --- |
| Film Title | MACHINE GUN PREACHER |
| Director | Marc Forster |
| Producer | Robbie Brenner, Marc Forster, Gerard Butler (exec producer) |
| Screenplay | Jason Keller |
| Cinematography | Roberto Schaefer |
| Cast | Gerard Butler, Michelle Monaghan, Michael Shannon, Souleymane Sy Savane |
| Duration | 129 mins |
| Genre | Action, Biography |
| Classification | R |
| Language | English |
| Country | USA |
| Rating | 5 out of 5 |