By Lyne Marshall
From time to time I come across a book that is silk to the eyes. Harnessing the Power of the Creative Spiral is not only a pleasant visual journey displaying Lyne Marshall's stunning paintings, the content within is seeped in wisdom. Lyne is passionate about art. Her paintings are exhibited in Australia and overseas. In her book, Lyne takes the subject of creativity with all its stigmas and quirks and turns it into a world of possibilities for those who believe in themselves and the reason for their creative gifting.
Harnessing the Power of the Creative Spiral will encourage and challenge you to live the life designed for you. It inspires you to break free from the doubt, the excuses, the fear of failure, and to recreate what you have buried inside you and to do it with excellence. The content is relevant to anyone who is not living according to their life's purpose, although Lyne uses her artistic gifts to demonstrate the creative journey. She explains the ups and downs of being an artist and how to get around the 'hitting the wall' syndrome that plagues most creative people.
In making sense of the spiritual, as well as this physical aspect of our being, it occurred to me that all parts of our existence could be visualized as a series of invisible singular spirals that are consistent, yet erratic, and gain altitude through growth.
The description of the spirals Lyne portrays explains the creative journey that encompasses twists and turns that can sometimes leave us exasperated and feeling defeated when our journey comes to a road block and we don't know which way to turn or whether it is worth continuing down this path.
If there is something we are drawn to and dream of throughout our lives then a hearth will be built on the energy of this vision. We add to it with our fledgling attempts, then one day set it ablaze so it roars to life with increasing vigour. For some, this fire that produced such intense heat and light, will falter, die down and smoulder, and never again be refuelled.

This is not an uncommon scenario for creative people. Life gets in the way of dreams and as the ashes cool, we go off in a different direction, to settle for something else that may offer satisfaction. Allowing our mind to take us back to our early years, to reflect on why this is so, may give some answers to a perplexing question. If we are inherently creative what dampens the flame?
I'm sure many of us can relate to what Lyne writes about. This is what I feel makes this book so intriguing and relevant to the artist within us. Not only does Lyne give us the gift of her wisdom and experience as an artist, but she shares her beautiful art work throughout the pages that allow us the luxury of repose as we ponder her words.
To understand the creative spiral, there is a need to intellectually comprehend the artist within; to work from the essence of one's self, a place of truth. The answers are everywhere, in travel and the people we meet, in research and in exploring the past. It's about timing, for the door will always open at the right time.
In reading Lyne's book, I felt a stirring within, a relief that I was not alone in thinking these same thoughts of frustration in keeping my creative drive alive. The creative spiral is a journey and Harnessing the Power of the Creative Spiral is a wonderful guide book that I feel I can refer to over and over again as a means of calming my mind when it begins to doubt. I feel very blessed to have this book come into my hands, especially at the time that it did.
In life, we get what we direct our attention towards… In saying no to opportunities that do not serve our purpose, we are free to say yes to the right ones.
Harnessing the Power of the Creative Spiral is not a book to be shelved. It is a masterpiece that deserves an honoured place in your home or office in easy sight of visitors. The beautiful cover draws the eye like a magnet and pleads to be read, over and over. This 80 page book offers paintings and photographs in colour that are soothing to the eye and are perfect for meditating with your thoughts. I have shared with you some nuggets of Lyne's insightful words. Throughout the book Lyne also shares eloquent poetry from award winning Brisbane poet, Graham Nunn and other insightful quotes that perfectly compliment the message this book expresses.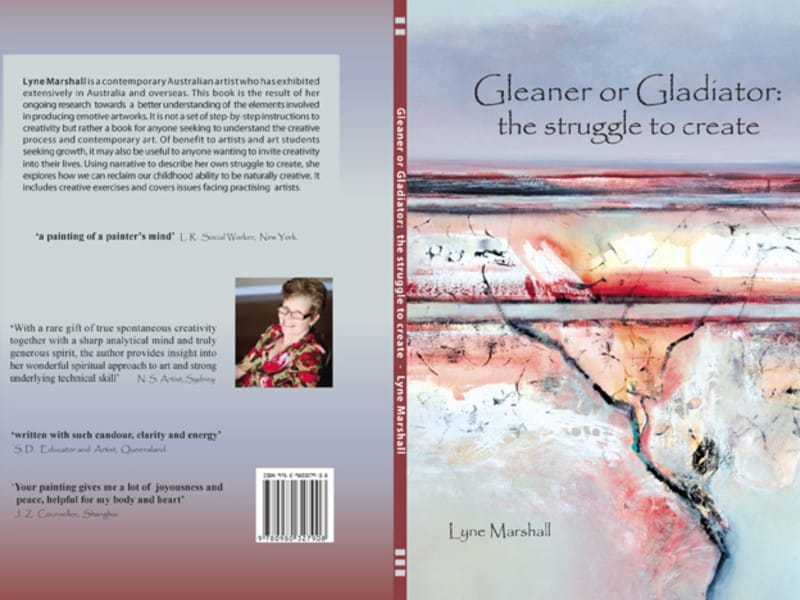 Other books written by Lyne Marshall include: Gleaner or Gladiator: The Struggle to Create. In this book, Lyne describes her own struggle to create and explores how to reclaim your childhood ability to be naturally creative. It includes creative exercises and addresses issues facing practising artists.
Book Information
| | |
| --- | --- |
| Book Title | Harnessing the Power of the Creative Spiral |
| Author | Lyne Marshall |
| Description | The author, Lyne Marshall, is a practising artist who believes that by finding our true purpose we connect to art and life on a much deeper level. In turn, we gain a better appreciation and mastery of the creative process. In this third book, Lyne puts her unique spin on the cyclic nature of art and life and the way there is a seemingly invisible organic structure, a spiral, that continues its upwards crusade in the course of realising original vision. |