Book Title: Secrets That Define Us (previously titled Cheri's Secret) – A short story by Jacqx Melilli
Excerpt:
I'm dying.
My heart beats to the rhythm of the clock hanging on the wall. I watch the hand marking each second and wonder when it will stop. Boom-boom; tick-tick; beep-beep; boom-boom; tick-tick; beep-beep. This soulless tempo accompanies the strain of my assisted breathing, made more difficult by the sickening smell of disinfectant lingering in the air. My captive spirit fights to be free of this rotting carcass, all but dead bar for the machine that keeps me alive, against my will. Time, which stole my life so quickly, is now dragging to torment me. Memories keep bobbing to the surface regardless of how many times I try to abolish them from the recesses of my mind.
'Forgive…let it go,' a soft voice urges with feverish repetition.
My anger flares as I wrestle the voice into the abyss. The secret I have carried since childhood is the wound that has never healed. Is this what's keeping me from dying? Am I being punished for the selfish life I've lived? What must I do to end this misery?  The fever dims my eyesight as I try to focus on the clock, wishing it to stop and my heart to mimic it.
'Forgive…let it go,' whispers the voice.
'Nobody cares. It's too late!' I shout back, infuriated.
'Forgive…let it go…'
'Let me die.'
'Forgive…let it go…'
'Nurse, nurse!'
My mouth is parched, making my attempts to call out no more than a strained whisper. I focus on the assistance button beside my bed, but no amount of willpower will raise my arm to press it. All strength has left my body insisting I lie here like a dead weight to ensure maximum suffering until the nurse does her hourly checks, which for me is an eternity away.
I wonder if it's too late to reveal my secret. Who would listen? Who would believe me when all this time, the scars have been hidden? Who would care? My secret defined my life's seasons, now ending in the wintry cold biting at my bones and forming icicles on my soul. Why did I carry this curse with me? If I had broken it during my youth would my life have been different? Instead, I gave it power by keeping it secret.
Your purchase will assist in supporting She Rescue Home.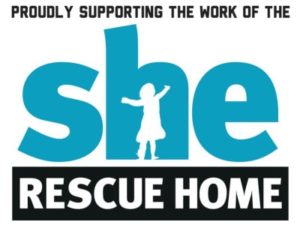 Secrets That Define Us (previously titled 'Cheri's Secret') is available for download in PDF (Adobe Acrobat Reader DC) or mobi (Kindle), epub (Adobe Digital Editions), format.